The Mid Juruá Territory Forum (TMJ), an institution that brings together public and private organizations active in the Mid Juruá Territory, denounces the transit and permanence of rafts and mining dredges on the Juruá River, in the municipalities of Carauari and Juruá – AM
By Talita Oliveira | Coletivo do Pirarucu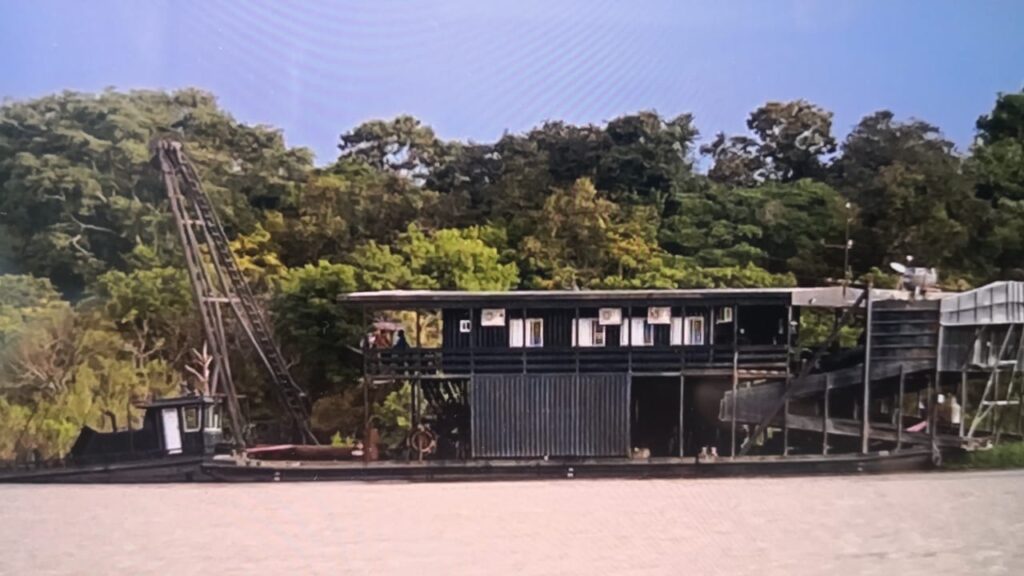 The Middle Juruá Territory Forum (Fórum TMJ) is an institution composed of 19 public and private organizations active in the Territory of Middle Juruá. On Wednesday (29), the Forum TMJ filed a complaint about the permanence of raft and dredge mining in the channel of the Juruá River and its tributaries, which was seen transiting through the municipalities of Carauari and Juruá. The document was sent to the Federal Public Ministry (Ministério Público Federal), the Public Ministry of the State of Amazonas (Ministério Público do Estado do Amazonas), the Regional Superintendence of the Federal Police in Amazonas (Superintendência Regional da Polícia Federal no Amazonas), the State Department of the Environment of Amazonas (Secretaria do Estado do Meio Ambiente do Amazonas) and to the Carauari District Attorney (Promotoria de Justiça de Carauari).
In the note sent to the authorities, the organizations express "deep concern and dissatisfaction" and point out that the information about the sighting of the raft and mining dredge in the region was passed on by representatives of extractive organizations in the municipality of Juruá and that the raft was also sighted near the mouth of Bacaba, municipality of Carauari, having withdrawn a few days ago, returning to the municipality of Juruá.
The TMJ Forum also warns that, "based on public information available in the National Mining Agency (ANM) system, apparently none of these processes has yet been granted permission for mineral exploration, as they have not met the stages of Environmental Licensing. Therefore, except in the best judgment, there is no legal authorization for any research activity or extraction of garimpable substances in these municipalities."
The places where the raft and the mining dredge were spotted are on the limits of Conservation Units of the municipalities of Carauari and Juruá. For this reason, the note also points out that "mining activities, if implemented in this territory, can cause irreversible damage to human health and the environment, besides making important sustainable management activities of natural resources unfeasible."
The organizations request that "the circumstances be investigated and those responsible who brought the aforementioned mining raft to the municipalities of Carauari and Juruá be identified, in addition to the adoption of concrete actions to prevent the installation of illegal mining in the region" and that "the illegality of mining activities in the region be clarified to organized civil society and the public agencies of these municipalities."
Read the full note here, only in Portuguese.