Participation of the president of the Environmental Association, Extractivists, Fishermen and Rural Producers of Itamarati in the course is part of the training offered by Instituto Juruá
By Letícia Araújo
Instituto Juruá was one of those chosen to fill the vacancies of the Shared Management of Fishing Resources course with a focus on participatory management of Arapaima. The training, which took place between April 18 and 28, was carried out by the Mamirauá Institute for Sustainable Development.
Nerinho Santos, president of the Environmental Association, Extractivists, Fishermen and Rural Producers of Itamarati represented the Institute in the course: "The course was great. The people of Mamirauá are to be congratulated, the team that organized the course is to be congratulated. I also thank the support of Instituto Juruá that paid for my trip as a representative of the association", Nerinho said.
Among the contents taught were the various stages of participatory management: organization, zoning, protection, counting, fishing and even the commercialization of fish. Jéssica Souza accompanied Nerinho and also participated in the training, representing the Chico Mendes Memorial: "The course taught and allowed us to exchange experiences on all the necessary steps to carry out a good management of the lakes" explained Jéssica, who operates in the Arapaima production chain. "We were able to go through several important details, within these fundamental stages, which were learned and were being developed in practice through the experience that Mamirauá has with the management of pirarucu", she added.
The management of Arapaima is not yet carried out in the municipality of Itamarati – Instituto Juruá continues to provide logistical support for the preparation of the fisheries agreement, and it is expected that it will be signed later this year. The advantages of the practice go beyond the environmental environment, as Jessica explains: "With the management of Arapaima, we are showing people that it is possible to make a difference. That it is possible to preserve and generate income for communities so that they can also participate as managers of activities and not just as employees of large fish traders and middlemen."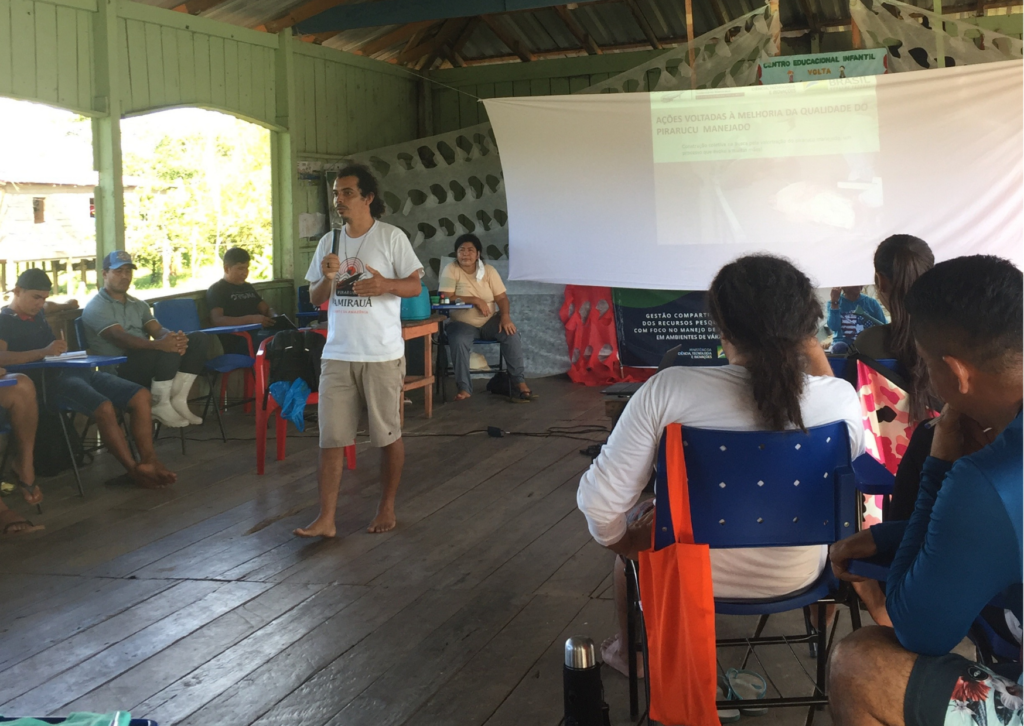 In addition, Nerinho's opportunity to participate in the course represents a new chapter for communities, and it makes him more excited about the future: "I arrived with even more experience, with more energy, more strength, more intelligence, and even more willingness to participate in other courses, to pass the knowledge to colleagues in the community meetings, and to talk about the importance of this course to each one".