The expedition aimed to execute the projects accumulated in two years of pandemic
By Bernardo Oliveira
Two years in two months. This was the motto of the Juruá Institute's expedition along the Juruá River, which began in September and lasted until mid-December 2021. In fact, it took almost four months of work in riverside communities in the Mid-Jurua region, AM.
Shortly after the institute was established, in 2018, the covid-19 pandemic began. To avoid the risks of contamination by community members and staff, the institute temporarily suspended fieldwork in communities. As vaccination progressed, it became possible to summarize field activities.
"We had a lot of projects approved, a lot of resources raised, and activities planned that were supposed to happen as soon as the pandemic ended or improved. So we waited for that moment, which happened in September 2021, when our team and most of the communities were already vaccinated. In fact, it took almost 4 months of work to execute projects and activities accumulated during two years. Because of this, there was a large team mobilized and many different activities were carried out during this expedition", says Andressa Scabin, executive director and project coordinator of the Instituto Juruá.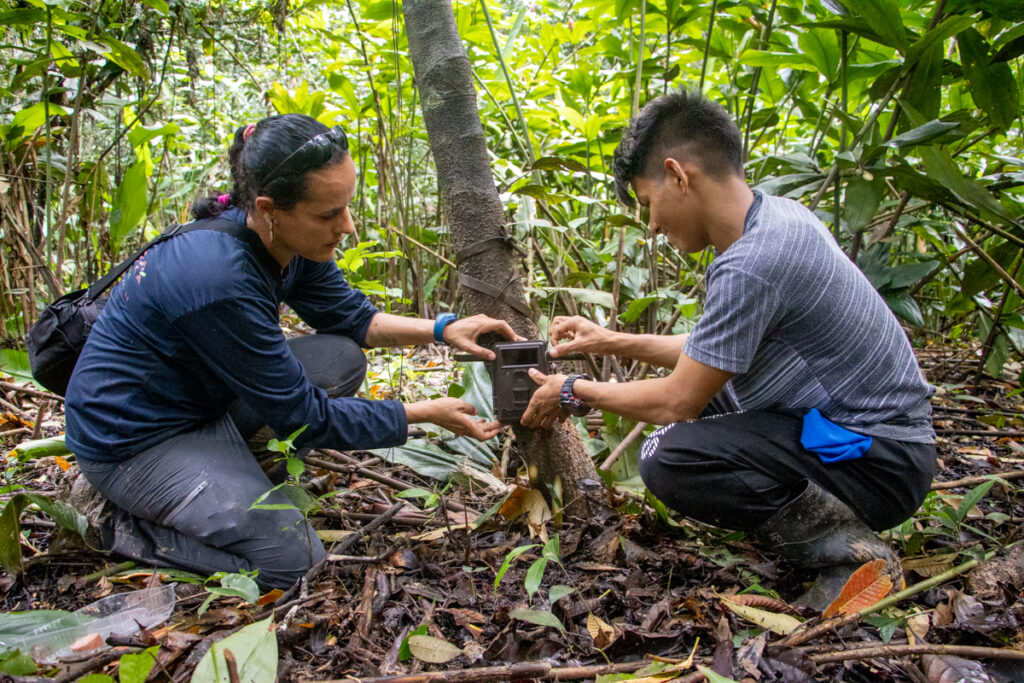 Among the many activities carried out, we highlight a few:
One of the scientific researches conducted during the expedition was based on interviews with riverside communities located inside and outside protected areas in the municipalities of Carauari and Itamarati. This research seeks to understand some of the economic, social, and psychological variables that make some community-based conservation arrangements work and others not.
"These are very dense interviews, lasting on average 30 minutes, addressing economic issues, social cohesion, quality of life, and other personal aspects of the residents of the communities," reveals Andressa. Most of the research was carried out by young residents of the Reserva Extrativista do Médio Juruá and Reserva de Desenvolvimento Sustentável Uacari, who also participated in the expedition.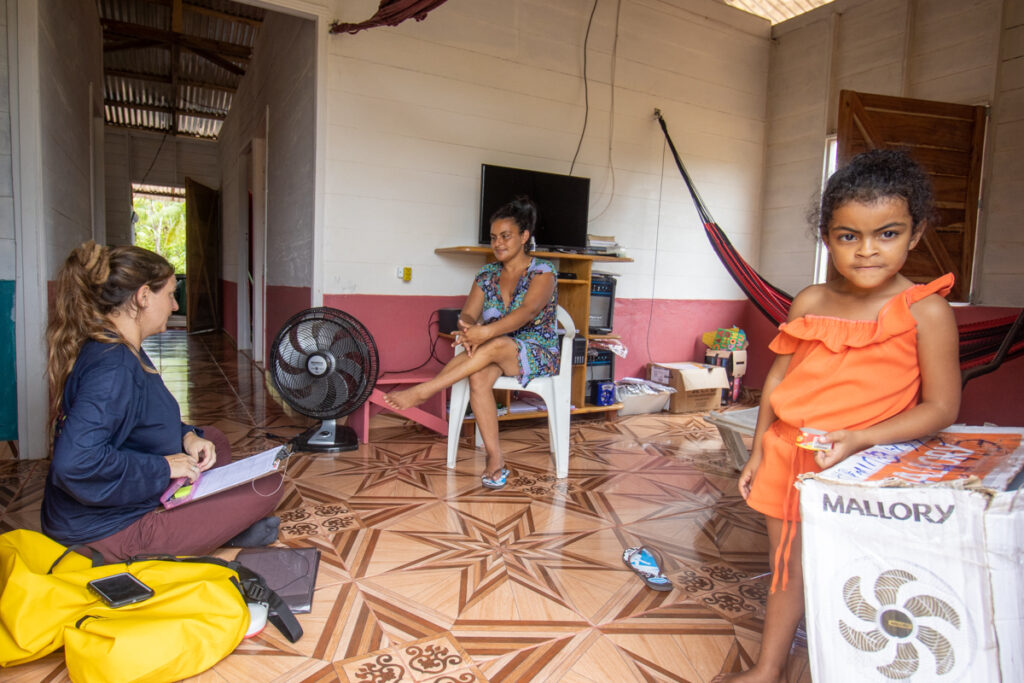 Another of the researches carried out was the participative mapping of the use of natural resources. The idea of this work is to map, together with the community, the areas where the use of resources is happening, especially extractivism, but also agriculture. The extraction of oilseeds, açaí, and latex. And the agriculture of manioc plantations and agroforestry systems.
This mapping is part of a diagnosis of the services that the communities end up providing when they protect the territory, and will provide subsidies for payment for environmental services for the communities that live in the region.
"The main environmental services that we are analyzing are those involving the use of extractive and agricultural resources in relation to some ecosystem services such as carbon stock, soil quality, and biodiversity maintenance," adds Andressa. "And we will make comparisons of these services between different land uses, such as shrublands, coppices, agroforestry systems, and forests."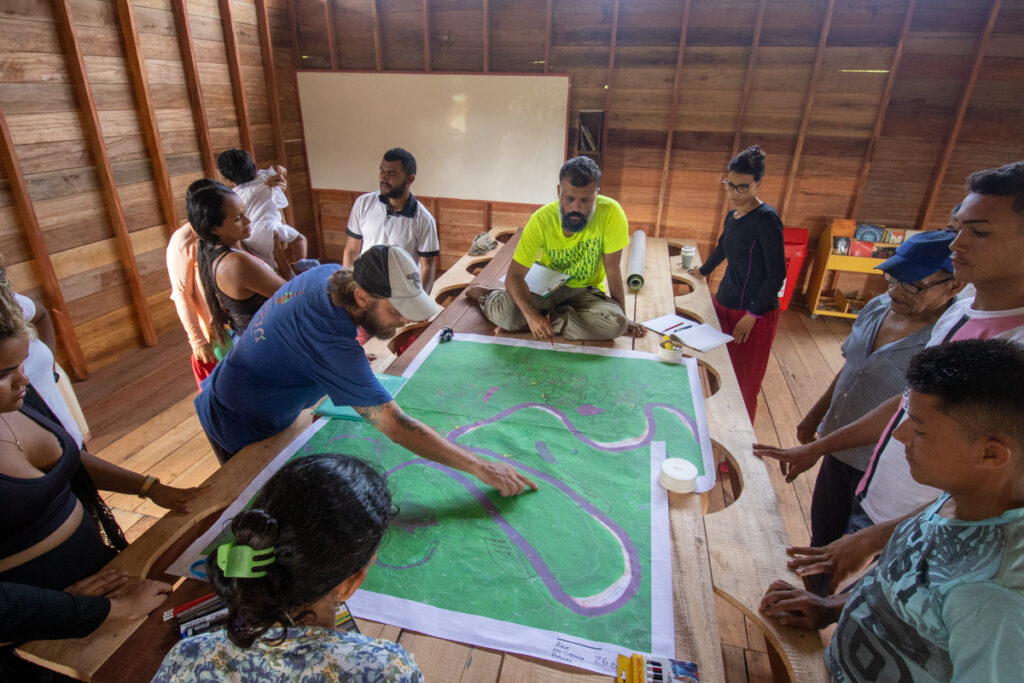 The Instituto Juruá team also gave courses during the expedition. One of the courses held in Xibauazinho community was the arapaima counting for women, held in partnership with ASMAMJ , to train women in this stage of arapaima management which until then was a mostly male activity.
We also held, both at the Casa Familiar da Floresta, located at the base of Campina, in the RDS Uacari, a photography workshop, which developed the students' eye to artistic perception, and a field course, where students could experience a few days as researchers, in classes that went from data collection in the field, through data analysis in computers and presentation of research results in the format of a scientific congress.
Andressa highlights that this was the first field expedition conducted as Instituto Juruá. "For the first time we traveled as an institute, because it was consolidated in 2018. This was important for people to change their view a little and see that we are no longer independent researchers, but that we are now organized into an association that is there to carry out long-term work, not more one-off research."
"For me it was amazing to be back in Juruá after so long and to be able to put into practice some things that we have been planning for years. The expedition was very satisfactory, we were able to achieve many of the goals we set ourselves at the beginning. And we hope that, from now on, we will be able to maintain a constant presence in the fields, so that we don't need to concentrate our activities so much", adds Andressa.