The artistical technique values local knowledge and represents a new way to generate income through the sustainable use of timber resources.
By Clara Machado
Timber is present in the daily life of those who live in the forest, either to make canoes, oars, boards for houses or harpoons and household utensils. Timber is collected on small scale in the forest and worked by skillful hands distinguished by a specific knowledge capable of turning it into daily items of the community life.
Thinking about this audience, which has the knowledge of how to use timber, Instituto Juruá, in partnership with Associação de Produtores Rurais de Carauari (Asproc) offered the first course on marquetry in the Mid-Juruá. The course took place on November 24-29 at the Casa Familiar da Floresta Campina (CFFC), a rural zone of Carauari (AM). The course was supported by ICMBio through the RESEX Mid-Juruá manager, Manoel Cunha. He contributed to the planning, lecturing, and he also participated in classes.
The course aimed at fomenting alternatives for sustainable use of timber in the region and expanded the capacity of generating income for the riverside families involved in the program. While valuing timber workers' previous knowledge such as carpentry and joinery, the course purpose was to teach marquetry, which is an artistic technique of making objects through angled cutting, fitting, gluing, and refining. This way, the possibility of adding value to the residual timber emerges, thus generating income from sustainable forest management on a small scale.
The training lasted 40 hours, encompassing five practical and theoretical classes lectured by masters Edielson Bezerra and Manoel Silva, from Nov'Arte Association (Novo Airão – AM). Twenty-eight timber workers from 21 communities from Mid-Juruá region participated, representing the territories of the Mid-Juruá Extractivist Reserve, Uacari's Sustainable Development Reserve, Deni Indigenous Land and the Carauari's Fishing Agreement Area.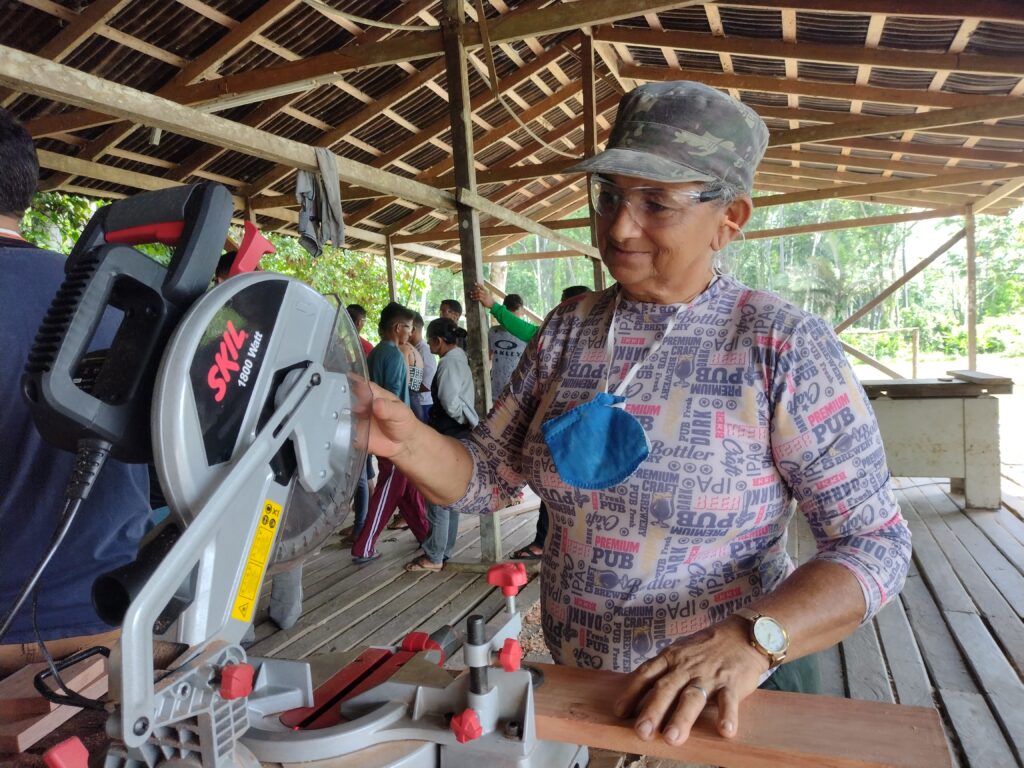 "Students were pleased, they took books, Personal Protective Equipment, and other materials home as well as the handicraft produced such as small boxes, boards, and decorative pieces", Nathalia Messina said. She is Instituto Juruá's socioenvironmental analyst and participated in the preparation and delivery of the course.
During the course, some tools and marquetry items were raffled and there was a miter saw giveaway. The machine makes it possible to quickly and precisely cut angular pieces and it is under the responsibility, use and custody of the communities.
According to Nathália, "to make better use of the results achieved through the course, the intention is for this to be the initial activity of a timber exchange project to be developed by artisans and community-based organizations from the Mid-Juruá, with the support from Instituto Juruá".