By Maria Cunha

Mid-Juruá, a land of dreams, a land of fights, a land of stories
Lived stories, painful stories, stories linked to a great conquests
Mid-Juruá of the ones who look for the best, who dare, who turn their dreams into a perfect reality
Here soil is fertile, every germinated seed comes to life
Full of positivity, fruits grow and bring what's long-awaited by all who inhabit the forest: quality of life
Mid-Juruá is a land of changes, turns obstacles into opportunity
Opportunity of life, of health, of love of neighbors and improvements
Traditional dreams turned into quality of life
By the arapaima, by the vegetable oils, by the açaí, by the mutual hug that Mother Nature provides us
A land that makes each morning a day to fight for.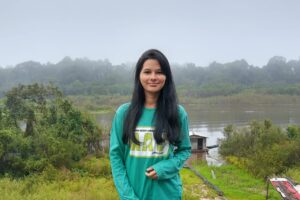 Maria Cunha lives at São Raimundo community, in the Médio Juruá Extractive Reserve. She is 27 years old, a sustainable production technician in conservation units, a voluntary environmental agent and a reading mentor for Associação Vagalume.