There is no authorization for mineral exploitation in the region. Acting organizations in the Mid-Juruá issued a new complaint with the Federal Public Ministry.
By Clara Machado | Instituto Juruá
On the morning of October 22 a ferry and a mining dredge were seen on the Juruá river channel within the limits of the Uacari's Reserve of Sustainable Development in Carauari (AM). The ferry sailed to Itamarati (AM), where it was seen operating the next day. Later it continued past a reserve and area of chelonian breeding grounds belonging to the town.
Applications for mining do exist in the Juruá region, which are being processed by the National Department of Mineral Production (ANM), but according to public information available in the agency's system, none of them are authorized so far. Thus, exploitation in the region is an illegal activity.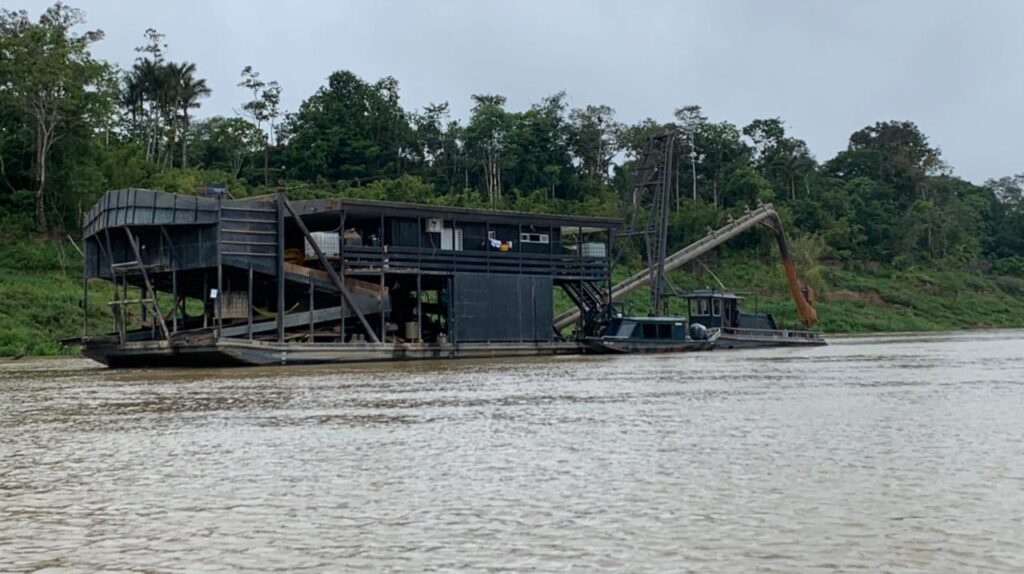 There are suspicions that this is the same ferry seen in July of this year. When entities working on the region issued the first complaint. The Mid-Juruá Territory Forum gathers public and private organizations committed to conservation and sustainable development in the Mid-Juruá region. On October 25 the Forum issued a new complaint with the Federal Public Ministry. The letter also was sent to the superintendent of the Brazilian Institute of the Environment and Renewable Natural Resources (IBAMA/AM) and to Institute of Environmental Protection of Amazonas (IPAAM).
Illegal mining can have serious consequences for the environment, biodiversity, and human health, in addition to making it unfeasible sustainable management activities of natural resources that generate income and are the basis of food security for traditional and indigenous populations.
In the letter, the organizations emphasize that "more than 40 riverside and indigenous communities are extremely threatened in losing their main source of income, as the disorderly and illegal actions of gold extraction directly harm the arapaima management chain, because of generated waste". And they request, as a matter of urgency, that the municipalities of Carauari, Itamarati and Eirunepé as well as other competent bodies take measures to inhibit illegal activity in the region and that those responsible for the dredge be investigated. Read the full complaint letter here.